The cherry on the tent-cake: Welcome at Café Theres´
At Café Theres´ extravagancy meets down-to-earth in a highly traditional spot of the Octoberfest: It is the very spot where Ludwig and Therese of Bavaria tied the knot in 1880. Ever since that historical date and each year Munichs and millions of people from around the world indulge in the two-week bustle there at the "Wiesn" and within its heart at the Café Theres´ as a homage to the late Bavarian queen. In 2023 we remodeled the petite coffee tent with focus on true craftmanship: Filigree mural paintings that cover the side walls of our jewel citing the most historic and beautiful places in the English garden. Amongst this romantic picnic scenery our guests seat themselves on handcrafted, wooden furniture between wonderful flowers and classy details in an atmosphere that one only knows from the famous "Kocherlball". And here comes the scent: Our patisserie – apropos: the only one at the whole Oktoberfest – not only delivers delicacies for the palate all day long but yet for the nose, too. Savory, sweet buns, cakes and of course our house-tradition: the "Theresienbusserl". No matter what time of the day, either with friends or family, colleagues or enemies – a visit at Café Theres´ is an absolute pleasure.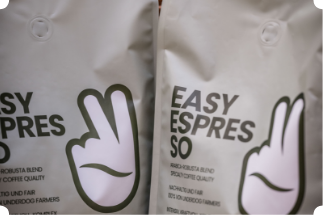 Coffee
Coffee is always a good idea. Especially when its high-quality is by our partner "Alrighty" – as a creamy Cappunccino or fresh Espresso Martini.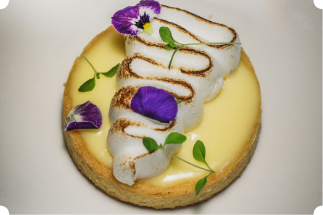 Pastry
Have your sweet and savory breakfast at the Oktoberfest: Pastry made from scratch in our own patisserie at Café Theres`.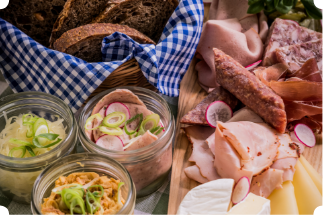 Picknic
In Bavaria we call it "Brotzeiteln" and it's one of our favourite hobbies – especially at the Wiesn. Have yourself a picnic with savory "Schmankerl" and fresh baked bread.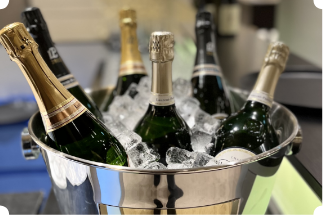 Wine
Cheers to life: This is what we do with our guests with selected wines, sparkling champagne and delicate drinks from the bar.